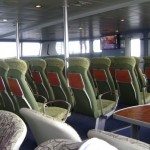 We had been to Key West a few times previously, but had never really visited all of the sites.  This spring, with bikes on board, we took the 3 hour journey on the
Key West Express Ferry
from Fort Myers, for a week to celebrate my parent's 50th wedding anniversary!  What a great way to travel – comfortable seating, a movie to watch, if you're so inclined, food service and space to walk around, inside and out.
During the week, we visited the Hemingway House, Ft Zachary State Park, took the Conch Train tour, stopped into Key West Art History and Mel Fisher Museums, touched the Southernmost Point of the United States, and of course, enjoyed entertainment in Mallory Square with the famous sunset as a backdrop.   Although there is much more on our list for the next visit, we felt good about finally seeing some of the more famous sites of the island.  
Traveling by bike through the streets of Key West is the ideal mode of transportation.  Parking downtown is scarce, and though there is traffic, the pace is slower and locals are used to bikes in the street.  Everything is close enough to get to by bike – even traveling to the opposite side of the island, you don't have to huff and puff too much.  If you don't have your own bike, you can easily rent one from one of the many vendors in the downtown areas for a couple of hours or a day or more.
And the architecture around town is a site in itself.  That and the diversion of people watching along the way can keep you busy all day long.  Take a break and a drink at Sloppy Joe's bar, where Ernest Hemingway spent much of his time, listening to stories that would be retold in his books through the years.  Of course, you'll also want to make a visit to another famous spot, Jimmy Buffet's Margaritaville, just up the street!
If you're a diver, there are a few dive shops that will take you out to the best dive locations, or snorkeling trips and other adventures abound as well.  The Dry Tortugas National Park is a day long destination, which I'll have to write about another time as we didn't get the chance to visit that one. 
Key West is a party in the streets, but if it's quiet you want, you can find that as well.  Ft Zachary State Park is the best beach on the island, and it's an easy bike ride from the downtown area.   Taxis will take you there as well.  Though it's not a long beach, the water is beautiful, and you can snorkel around some rocks and see some interesting fish.  We saw our first manatee there on one visit. 
And after a relaxing day at the beach, you won't want to miss the evening entertainment of Mallory Square, where jugglers, musicians, and all sorts of variety acts are on display as the sun sets behind them.  Vendors display their goods, ranging from jewelry, to temporary tattoos, to souvenirs of your time in Key West.  Sit down and watch the famous sun setting on the horizon, or if you'd rather take a sunset sail, there are a number of boats ready to take small groups out on the water for the famous moment each night.